TRUE WIDOW + KING WOMAN
Bigoût Records & Le Périscope
Lundi 24 avril au Périscope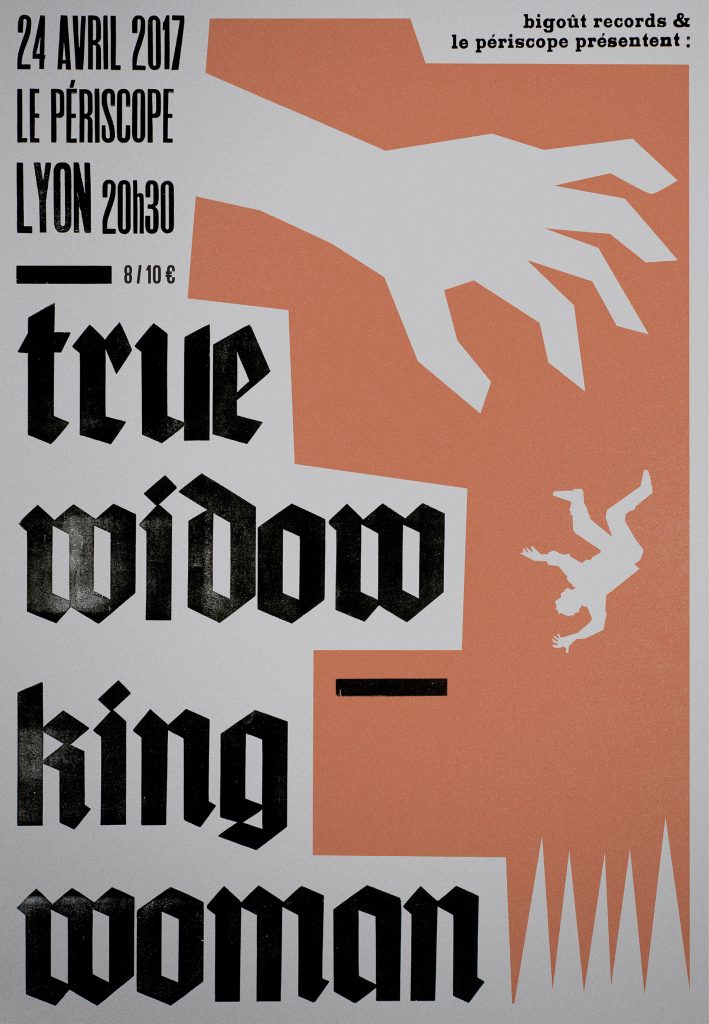 TRUE WIDOW (U.S. / Relapse)
Le trio de Dallas a émergé en 2008 avec un LP self-titled débutant sur un titre magnifique, « Aka », parfait rapprochement du slowcore et du doom, une recette unique qui allait être la marque de fabrique du groupe. TRUE WIDOW est un mélange narcotique de riffs amples, de rythmes pesants et de deux voix diaphanes, aériennes pour donner une musique très simple, qui baigne dans une langueur grunge propre à envelopper l'auditeur dans une rêverie profonde.
Quatre albums, un même sillon creusé encore et encore, une direction ferme qui va en s'assombrissant au fur et à mesure de disques à l'homogénéité à toute épreuve. « Avvolgere », dernier LP en date, porte le même spleen dépassionné et l'approfondie encore, plus sombre, plus rugueux et au bout de la ligne, des tripes en vrac.
Sur scène, TRUE WIDOW sonne nettement plus rêche et prend les allures d'un Acid King qui aurait roulé des spliffs avec Codeine. Le groupe joue en permanence du contraste lourdeur/douceur. Une expérience live obligée pour tout doomster, post-hippie, stonerhead et pour tout fan de musique obscure, méditative… et tout simplement belle !
KING WOMAN (U.S. / Relapse)
Autre signature Relapse, KING WOMAN était à sa formation en 2009 le projet d'une seule personne, la San-Franciscaine Kristina Esfandiari, qui a bâti le groupe autour de sa voix offrant un lyrisme peu commun dans le style pratiqué, à savoir un doom épique aux riffs gros comme des planètes.
Leur premier album « Created in the Image of Suffering » sortira le 24 février !
Adresse :
Le Périscope
13 Rue Delandine, 69002 Lyon
Horaire :
20h30
Tarifs :
8€ / 10€
Préventes : cliquez ici
---
Une liste d'une bonne partie des concerts à Lyon sur www.villemorte.fr


---
ART OF BURNING WATER
Booking : superfirecords AT gmail.com
---
SHEIK ANORAK
Booking : gafferrecords AT yahoo.fr
---
TEN VOLT SHOCK
Booking : tenvoltshock AT gmx.de
---
TORTICOLI
Booking : torticoli AT ymail.com
---
ULTRA PANDA
Booking : ask us
---
USA Nails
Booking : usanailsband AT gmail.com
April 22nd – Liverpool (UK) WRONG Festival
April 29th –  Southsea (UK) Portsmouth Psych Fest 2017 'Wedgewood Rooms'
European Tour
May 27th – Lille (Fr) 'CCL'
May 28th – Caen (Fr) 'Bocal'
May 29th – Paris (Fr) Venue TBC
May 30th – Lyon (Fr) 'Sonic'
May 31st – Besançon (Fr) 'Les Passagers du Zinc'
June 1st – Frankfurt (De) 'ExZess'
June 2nd – Hamburg (De) 'Astra Club'
June 3rd – Brussels (Be) 'Magasin 4'
June 16th – London (UK) ALBUM LAUNCH 'Moth Club'